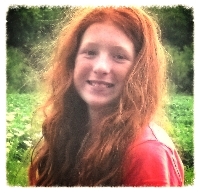 In Loving Memory of Elianna Raine Boyd
June 22, 1999 – August 11, 2011
During the past two years, our family has experienced many changes that we have had to adapt to since our daughter's passing but the most important of all is that knowing death is just a transition from this world to the next. Death is just the beginning and that Elianna is alive. People don't die but only their physical bodies die. Death is not final but a celebration of a new life because the soul lives on.
Of course we are still mourning Elianna which is necessary, so that we can move forward and to continue with the rest of our lives and I feel the strength we have endured is helping us and this strength has been unbelievable.
We feel a lot stronger within and more spiritually centered. I believe when you lose a child, a spiritual awakening occurs within. During the past 2 years I have found a new spiritual understanding in the depths of my grief. This spiritual understanding is deep within my soul and started out as a small tender flower and with nurturing and understanding it has now grown to become a beautiful rose. Of course our family feels the pain of those thorns sometimes, that are very sharp and can still make us weep, but my sister once told me that the most beautiful roses have the most thorns. And there is no such thing as a rose with no thorns…The "rose" in my soul will always be within me because it will remind me of Elianna.
Elianna is truly alive like the rest of our loved ones. My family and I have had many wonderful experiences from her in the form of signs, visions, dreams, energy and thought waves. Elianna has told us she is still around us which is comforting and of course amazing. I see my life in a different way since her passing. I look at life differently and I try to only live in the present because the present is all we have. Elianna's passing has taught me just that.
Until this day, we have so much to learn from our experiences good and bad. If life was wonderful all the time then there wouldn't be a reason for being here because we wouldn't be learning anything. I've learned that life is about balance and we have to face the good with the bad and to take these life experiences by helping others. Growth within us is the reason why such experiences/tragedies happen. Knowing about something is one thing but actually experiencing it is another.
We tried to make sense of Elianna's passing and that her life on earth was fulfilled here in one sense and that she had to leave for reasons known by the higher powers. In time, I accepted her untimely passing and by doing so I grew because of experiencing grief first-hand. We learn from these experiences through spiritual knowledge and we turn the sadness into smiles and wisdom. This void Elianna left behind is filled by spiritual thoughts and prayers which comforts me and are still helping to heal my family and I today.
She was loved and cherished and lived her 12 years to the full; the zest and energy she put into those years live on still in all those around her today; the tree the school dedicated to Elianna bares beautiful red leaves each fall, a reminder to me of her wonderful chestnut-red hair; the tree is a poignant reminder - as it blossoms and grows - that life really does go on. There may be life-changing situations but there is never an end to life, it is just a continuous cycle".
I hope you keep Elianna in your prayers today and every day and to remember her as the sweet, kind and good - natured girl she was.
Blessings,
The Boyd Family